First of all, sorry for missing last week's review everyone. My "day job" being a filmmaker often interferes with my responsibilities as a writer for Nerdopotamus. Sometimes I unfortunately miss out writing some cool reviews for great episodes.
SPOILERS ABOUND
You have been warned so proceed with caution.
If I had to give last week's episode titled 'Enter Zoom' a score, it would easily be a 10 out 10 for outstanding performances, great emotionally fueled dialogue, laugh out loud humor, and strong visual combat. Barry and his team (with the help of his ex-girlfriend pretending to be Dr. Light) engage in one clever battle with the super fast enemy known as Zoom. Zoom is a hurricane force that breaks Flash's back.
This week's episode titled "Gorilla Warfare" is just as wonderful. I can't believe how consistently cinematic this show has become. Through and through it felt like I was watching a one-off Flash T.V. film.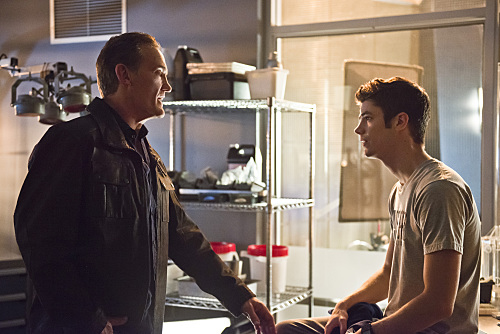 Grodd comes back to Central City and captures Caitlin. He aggressively begs her for more intelligent apes. Barry's father comes back to town to visit his semi injured son. Fear not, because Barry heals quickly.
Patty is upset that she's being lied to by Barry, knowing that something is going on behind her back. I'm scared that her character is slowly becoming a tool that extracts emotion from Barry when all else fails.
I'm patiently waiting for Patty to find out what Barry's second job is. She doesn't come close in this episode, but the gears keep moving.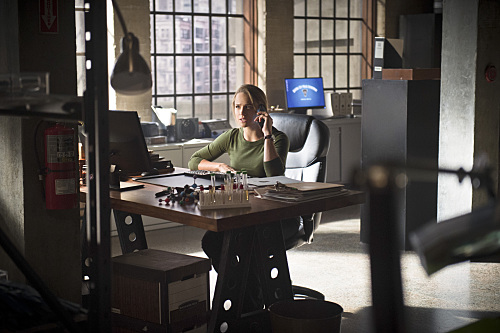 Cisco touches Kendra on a dinner date and sees a glimpse of Hawkgirl. That startles him and he scurries away. He makes it up to her later that night by visiting Jitters and giving her a gift basket full of chocolate and flowers, because who doesn't love that? There's a screen projector inside with a copy of Princess Bride. Why mention that? I adore how all these tiny things add up to make Cisco Ramon the merriest guy in Central City, that's why.
The final confrontation with Grodd ends up sending the character to Earth-2, as planned by Harrison Wells. He tells the team there's a place on his planet for smart gorillas, and that he'll be right at home. Comic book readers know that location as "Gorilla City," an area once hidden from humans run by Solovar, a hyper intelligent ape. My guess is Grodd's going to take over and wreak havoc.
The artists did a fantastic job making Grodd appear realistic. Bending light and having Grodd lurk in shadows were intelligent methods to mask low budget CGI. Like always, the series knows exactly how to handle their money and use some of the filmmaking world's finest talents to breath life into one of DC's most successful stories.
9/10
FEATURED IMAGE CREDIT: dc.wikia.com